ACCOUNTABILITY | NUTRITION | OUTPUT
ACCOUNTABILITY
Holding yourself personally accountable for your current health is an essential part of the journey to your ideal physique. We are so quick to allow the little devil on our shoulder voice to take the easy path! Why do you think elite athletes have coaches? To keep them accountable even when it is tough and they don't feel like doing it.  
At The Underground, we will provide you with an accountability coach to message you three times a week and meet you once a fortnight to keep you accountable to your goals. With the support of a coach and your work ethic, anything is possible if you give it a crack.
NUTRITION
The crucial ingredient for success!
EVERYTHING IN MODERATION.
Your meal plan does not have to be so restrictive, you can still enjoy all the good stuff by REGULATING AMOUNT OF FOOD INTAKE.
OUTPUT
TRAIN SMART! GET RESULTS! LIVE LIFE!
Exercise is essential to aiding the speed and success of your weight loss journey. The type of exercise you partake in can drastically increase the results and aid in keeping your body composition in your ideal physique.
At The Underground, we have an overall focus on strategic improvements in strength and mobility through our three-week progressive workout block. That is why our workouts are safe, sustainable and have your bodies lifetime value in mind.
Hurry though, we've only released 20 spots due to limited capacity so get in quick
because once they're gone- they're gone!!
0
Memberships Left
TESTIMONIALS
What I really like is that the true focus on Strength and Conditioning is being enforced every step of the way, and it's gradual. And the gradual approach means it's not a quick fix, its a focus on a permanent fix. The other component of being accountable to both a nutrionalist and a great coach, has also meant my focus has remained. I'm still eating great food, just a lot less of it.
I'm here after the 6 Weeks, now fitting into my clothes, my overall improvement in strength is really obvious, and I'm keeping up with those half my age, even though its at my level. I've signed on to continue my journey, and am looking forward to setting the next lot of goals. Thank you UGM.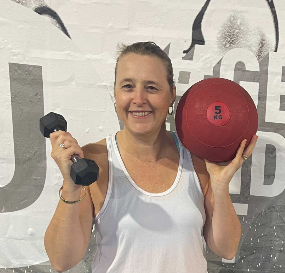 YasnaChallenger
Before the 6 week challenge I was feeling flat, no energy, tired. My nutrition was not good either. I am just about to start the 5th week and I feel great lots of energy and can feel I have lost a little weight and improved my overall fitness. The team at the Underground are fantastic, motivated and their every step of the way. Can't wait to continue my journey. PaulChallenger
3 weeks ago i couldn't do pull ups…i did 3 sets of 4 yesterday…eating more regularly has helped a lot. Regular sessions at the gym (when I'm not stupid enough to book a 5.30am session) have been good for mind and body. Plus sessions with Brendan in particular are good, he is very encouraging and approachable and shared my enthusiasm with my pull ups yesterday. Body is changing shape…i can now fit comfortably into clothes i couldn't wear 3 weeks ago. Dropped pant size from 14 to 12. Dropped top size from 16 to 14. Regular photos of food has kept me accountable for diet and regular eating habits.
JadeChallenger
Before starting at The Underground Movement I had never really been to the gym. I'd play sports and walked the lake occasionally.
My first gym session I was super nervous not knowing anyone there and all the different exercises. The trainers were amazing taking the time to explain to me how to do the movements and answer any questions I had. If an exercise was too tricky there was always an alternative. Always checking in on me through the session to see how I'm going.
Now I feel like going to the gym is not only fun but helping me with a healthier lifestyle. BiancaChallenger
The Underground team has been amazing and supportive throughout the challenge. The end results really surprised me! I lost 5% body fat while increasing my muscle mass and lost almost 5kg all in 6 weeks. I don't snack nearly as much as I used to, I feel stronger and overall just feel really good. I feel like I've got my routine sorted now, I'm able to make the right food choices but also enjoy myself too. I 100% recommended the Underground! It's such a welcoming group with great guidance and programs that are designed for progression and development. BridieChallenger
The support from the team at the underground is always amazing, from checking in with goals and nutrition every week to just the chats you have with them in the gym I always felt supported throughout the 6 week challenge even when I went a bit off track towards the end! Sometimes life happens but I was never made to feel guilty about missing a session or when I forgot to send in my nutrition… all the time haha.
In the end I surprised myself with losing 4% body fat and gaining 1kg of muscle! Even though I may not have been the best student I still achieved something to be proud of at the end of the 6 weeks and I'm looking forward to continuing on with the good habits I've learnt for the next 6.
SamChallenger
Being a regular gym goer for years, I found myself to be in a rut after the Covid lockdowns. After hearing about the Underground 6 week challenge and speaking to Shelley I found the motivation that I needed to get back into it. Having to send through photos of my food intake, certainly made me more accountable and question whether I actually needed that biscuit! Shelley was great with feedback, encouragement and touching base on how I was going. The training sessions were challenging and catered for everyone. The trainers were knowledgeable, explained things well and very helpful. After the 6 weeks, I'm now lifting heavier weights, lost weight/body fat and have more energy.
NicoleChallenger
I always find the challenges a great motivator to work that little bit harder and focus on areas that might tend to slack off every now and then. For me in particular, that is my nutrition. I LOVE food and drink, and to be honest a big reason I go to the gym is so I can continue to and drink without feeling guilty The challenges help to maintain a good healthy lifestyle by keeping you accountable. I was aiming to educate myself in terms of portion sizes and increase my cardio fitness for the upcoming netball season. The daily accountable check-ins for the nutrition helped. The nutrition books also helped for healthy food options and educated me about and how much I should be eating. By the end of the 6 weeks I have seen results in lots of different areas. I was able to drop nearly 1kg with maintaining muscle mass and having my lowest ever body fat percentage. I have also been able to run my first ever 5km in under 30mins which is a massive achievement for me.
JessChallenger
Previous
Next

What Does The Challenge Involve?
Our challenges are a weight loss challenge designed to make you lose weight, tone up, gain strength, and improve fitness all round.
Our Challenges are tailored to getting the results the clients require.

32D Doveton Street North, Ballarat Central 
 E info@theundergroundballarat.com.au
P 0412 173 153
Copyright 2021 The Underground | All Rights Reserved